HQ SEO has been one of the leaders in creating custom proposals to businesses of any size. 2 years ago and most seo agencies?would simply ask you for your keywords, how many you want to target and base a monthly price on how much "work" they might think it would take to rank you page 1 in 6 months. There was so much guessing that we decided we never wanted to end up like that. Instead we create proposals based off potential return on investment (once ranked). So how do we calculate potential ROI?
Hint: We Base It Off Your Competition!
We base everything off what the top ranked websites are receiving, and create detailed proposals supported by DATA that show how much your business will make when you rank #1 #3 or page 1 of Google. We can also create these proposals extremely accurately using tools such as: SEMrush and Majestic, we know exactly what it takes to rank a site and how much these sites are currently generating, we then provide this data in an easy to digest format for you to understand. All our pricing is based on between 20-30% potential ROI.
How We Calculate ROI
Step 1 – We calculate the value of the traffic you will receive when ranked in the top 3 for a specific keyword or group of keywords. For this article we will use a local keyword that we are currently running a case study for: "gym Cardiff". Inside of this would also be other relevant keywords such as "private gym Cardiff" "gym Fairwater (or a specific inner area of Cardiff), "yoga Cardiff" "pilates Cardiff" all of which are relevant and WORTH ranking for.
We first use SEMrush to calculate the number of searches per month and then calculate the value of traffic across all of these keywords. Sidenote: Google keyword planner's data is highly inaccurate and inflated.
Once the data is exported we remove any brand search presence, for example in this case "the gym Cardiff" and "pure gym Cardiff" are 2 that are deleted. And are left with a variety of keywords with their search volumes and CPC which stands for cost per click, this is the average cost for every click through from the ads in the right sidebar and at the top of the page.
From here we add another line to the excel which is the value of traffic a client will receive from ranking 1st for this keyword. The calculation is simply 40% of search volume (sites listed 1st for a particular search get between 36-75% of the clicks but we use a conservative 40% CTR figure. This figure is then multiplied by the CPC to give us the total traffic value of the keyword
We quote between 20-30% of potential ROI for the total keywords that will be ranked, with a 6 month ranking period.This allows us to rank a client using the strategies we know take around 4-6 months, but as a result the break-even point comes in month 3-4, the graph below fully explains ROI with SEO, the image is based on a $297 campaign, but the graph displays perfectly how the value of SEO comes through as more keywords rank #1 and page 1.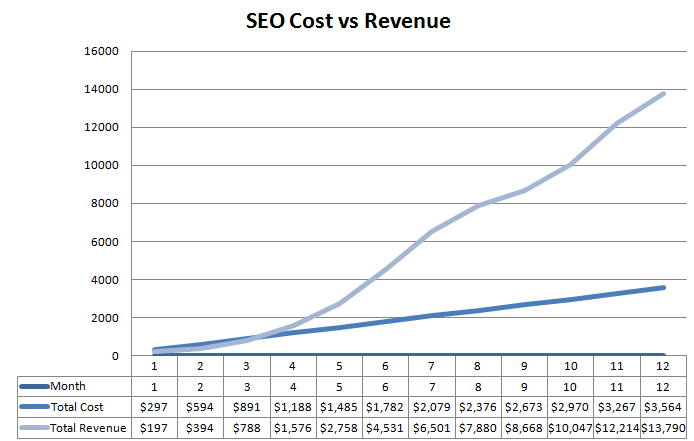 If you'd like us to put together an in-depth proposal for your company, do not hesitate to contact us.
Thanks for reading.